about minisite™
How and Why
We are here to execute web projects with exceptional quality and efficacy. Based in our quality, secure facility in North Wales we serve UK, European and US clientele in a responsive and direct manner.

Our Team
It's no secret that the real success of our company is down to the talent and commitment constantly displayed by our team members. The team, headed up by Office Manager Grant Russell, is made up of a group of talented individuals with specialist knowledge and skills in all the important dispilines such as web design, web marketing, graphic design, web programming (PHP, MySQL, ASP, Java, AJAX, XML etc.), search engine optimization and pay per click per click marketing with Google. This allows us all to colaborate on any given project (even a small entry level site) to ensure your site site project performs exceptionally well.
History
minisite™ is part of the Livetech Group and will be enjoying their tenth year in business in 2010! Founded by Paul Levy in 2000 out of a belief that almost all business would be influenced by the web in future, the vision is certainly taking shape!
We have always understood the need not only to build websites but to get them found, to this end we have a network of local and industry niche web directories that can get your business noticed in double quick time and at little or no additional cost.
Environmentally Friendly
We endeavour to supply energy efficient and environmentally conscious services to ensure that our impact on the global environment is kept to a minimum. We reduce our carbon footprint by:
Using carbon neutral servers that are offset through tree planting.
Our staff are encouraged to cycle, walk and/or use public transport to travel to and from work.
Use of the minisite centralized system and shared master resources ensures that server load and energy useage are kept to a minimum.
Easy to Do Business With
Call us any time and we will always try to have a useful reponse. Payment can be made via a variety of methods, even payment on results by prior arrangement!
We always strive to be accessible and keep the lines of communication open at all times, you can speak to any member of our fantastic team directly on 01492 534393 9.00-5.00 PM or me on 07941 840862 at any time.

I look forward to helping you soon.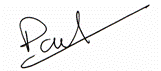 Paul C. Levy B. Eng, PGCE - Managing Director - Live Technologies Ltd.